Powell County Medical Center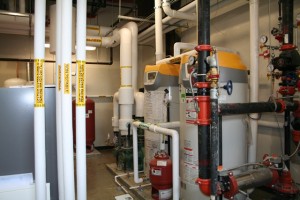 Galle Plumbing was recently part of the team that constructed the new medical center located in Deer Lodge, MT, that was built from the ground up. Galle Plumbing carried the full mechanical contract for this project.
---
Seacast

A leader in precision investment castings, SeaCast built a new titanium vacuum melting facility just outside of Butte, Mont. Galle was contracted to install process piping for titanium furnaces and piping for all aspects of the titanium plant. 
This project was unique because it was funded with dollars from Butte-Silver Bow County's tax increment finance industrial district, and as a result came with a tight timeline. Also, while the county owns the building, it was constructed to SeaCast's specifications.
The partnership required the construction team, including Galle, to answer to multiple parties. The resulting project, though, was a win-win for all involved. The titanium plant has put vacant land to use, and employs nearly 70 people with long-term, good-paying jobs.
---
Mill Creek Industrial Complex

Galle was awarded a bid to provide a sewer pipe for a new power generation plant late in the construction season. To complicate matters further, the work was taking place on contaminated land located within the Anaconda Superfund Site. 
The Galle team immediately tackled the excavation and installation of approximately 20,000 feet of 6 and 8 inch sewer pipe. A new lift pump station was also installed. Because the pipeline would serve not only the power plant but the entire industrial complex, a strict construction timeline was in place.
The team battled frost, Superfund issues and severe weather to install the pipe, which had to be tunneled under Montana Highway 1 and an active railroad.
Despite the obstacles and a demanding timeline, the power plant went on-line as planned, resulting not only in more consistent energy service but a significant increase in the taxable value of Anaconda-Deer Lodge County.
---
Steam Tunnel

The University of Montana called this a 100-year project partly because it involved replacing a century-old pipe, but also as a nod to its magnitude.
Galle Plumbing was tasked with replacing steam traps and condensate pumps in aging buildings throughout campus, as well as replacing 5,000 feet of 12-inch pipe throughout the university steam tunnel.
Short construction seasons, a rigid timeline and constant traffic through work areas added complexity.
Galle's team worked rigorously during warm months to meet critical milestones to ensure the university could provide consistent heat throughout campus during cold seasons. During intense work periods, though, the team still had to maintain pathways in busy areas, including the university president's building, and accommodate extra traffic during special events such as the UM homecoming.
Despite the obstacles, Galle successfully completed the work within the projected timeline after three years of diligence.
---